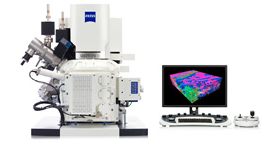 ZEISS Microscopy announces its new ZEISS Crossbeam Focused Ion Beam Scanning Electron Microscope (FIB-SEM) at M&M 2014,

ZEISS Crossbeam FIB-SEM increases throughput using a high beam current of up to 100 nA. While milling samples at unprecedented precision at all currents, users acquire images and analytical data in up to 4 channels at the same time. Crossbeam has the ability to examine large fields of view of up to 50 k x 40 k pixels, thanks to unique GEMINI technology and the optional Atlas 3D software package. The microscope features an application programming interface (API), giving users greater flexibility through access of every instrument parameter. Users benefit from increased throughput in micro- and nanopatterning applications.

ZEISS Microscopy has also introduced a new correlative microscopy environment to seamlessly link microscopy tools. This correlative software workspace enables fusion of data across multiple imaging modalities, length-scales, dimensions, and ZEISS instruments. The presentation demonstrated Atlas' unique capabilities to seamlessly link different technologies such as light and electron microscopes as well as X-ray microscopy. As part of this, a ZEISS Xradia Versa was available for virtual demonstrations, highlighting its non-destructive, high-contrast and high-resolution 3D imaging.

Additionally, a wide range of electron/ion, X-ray and light microscopes tailored for materials research and industrial labs were available for in-person and virtual demonstrations at the ZEISS booth.
---
more about zeiss
---