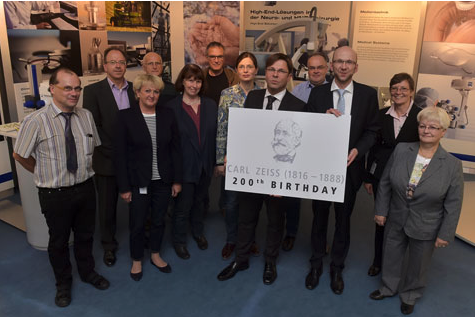 Carl Friedrich Zeiss was born in the German city of Weimar on 11 September 1816. The company ZEISS is celebrating the 200th birthday of its founding father by organizing many different activities and events – in addition to the Carl Zeiss Day on 11 September 2016 in downtown Jena, there will also be a touring exhibition and a book.

ZEISS will celebrate its prominent founder together with players from the city of Jena, the ZEISS sites in Germany and abroad, and partners from science, industry and society. On the website 200 the company will provide an event calendar in which institutions can enter the events they will hold to mark the 200th birthday of Carl Zeiss.

The mechanic Carl Zeiss opened a small workshop for precision mechanics and optics in Jena in 1846, laying the foundation for today's global technology player ZEISS. "His work shaped the reputation of the city of Jena as an international center for optics and photonics and home to globally operating companies and prestigious research institutes," said Jörg Nitschke, Senior Vice President of Corporate Communications at ZEISS.
---
more about zeiss
---