Members Login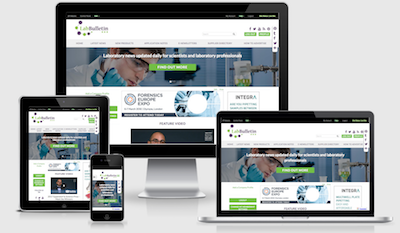 Monthly Newsletter
Lab Bulletin Media Partners
Privacy Policy
LabBulletin Privacy Policy
At Lab Bulletin, we are committed to maintaining the trust and confidence of our members and visitors to our web site but just in case you don't believe us, in this Privacy Policy, we've provided lots of detailed information on when and why we collect your personal information, how we use it, the limited conditions under which we may disclose it to others and how we keep it secure. Grab a cuppa and read on!
Lab Bulletin is a trading name of Newleaf Marketing Communications Ltd. (The Company) whose registered office is at 4 Mimram Close | Whitwell | Hertfordshire | SG4 8HR | UK | Registration No. 7004885 | Tel. +44 (0)1438 871968
Information we may collect from you - We may collect and process the following data about you.

You may provide us information about you by filling in forms on our site www.labbulletin.com or by corresponding with us by phone, email or otherwise. This includes information provided at the time of registering to use labbulletin.com, subscribing to a service, posting material, participating in discussions or other social media functions on our site or requesting further services. The Company may also ask users for information when a user enters a competition or promotion sponsored by labbulletin.com or when a user reports a problem with labbulletin.com. The information you give us may include your name, address, email address and phone number, financial and credit card information and personal description and photograph.
Information we collect about you - With regard to each of your visits to our site we may automatically collect the following information.


Our site may collect information about a user's computer, including where available the IP address, operating system and browser type for system administration and to report aggregate information to the Company's advertisers. This is statistical data about Users' browsing actions and patterns, and does not identify any individual.


Information about your visit, including the full Uniform Resource Locators (URL) click stream to, through and from labbulletin.com, products you viewed or searched for, page response times, download errors, length of visits to certain pages and page interaction information.


Google Analytics
When someone visits labbulletin.com we use a third party service, Google Analytics, to collect standard internet log information and details of visitor behavior patterns. We do this to find out things such as the number of visitors to the various parts of the site. This information is only processed in a way which does not identify anyone. We do not make, and do not allow Google to make, any attempt to find out the identities of those visiting our website.
Cookies
Our website uses cookies to distinguish you from other users of our website. This helps us to provide you with a good experience when you browse our website and also allows us to improve our site. For detailed information on the cookies we use and the purposes for which we use them see our Cookie Policy.
Cookies are small files of information which are stored on your computer. Web sites you visit ask your computer to store this information and retrieve the information from your computer so that they can keep track of things. Most browsers accept cookies automatically, but usually you can alter the settings of your browser to prevent automatic acceptance. If you choose not to receive cookies, you may still use the Site but you may find that the Site may not function properly or is slower than when you allow a cookie to be installed on your machine.
How we look after your information
We make sure that all the information we hold on you is as safe as possible. In addition, we have strict security procedures covering the storage and disclosure of your information in order to prevent unauthorised access and to comply with the UK Data Protection Act 1998. This means that sometimes we may ask you for proof of identity before disclosing any personal information to you.
What do we do with your information?
We use your information to process orders you make from our Site. We may contact you from time to time to let you know about our services which may include sending you free electronic newsletters, news on events and promotional emails from labbulletin.com that you may be interested in. You can elect not to receive such marketing material at any time by writing to info@labbulletin.com or by simply clicking on the unsubscribe link which is clearly visible at the bottom of every email.
Mailing Lists
As part of the registration process for our monthly e-newsletter, we collect personal information. We use that information for a couple of reasons: to tell you about stuff you've asked us to tell you about, to contact you if we need to obtain or provide additional information, to check our records are right and to check every now and then that you're happy and satisfied.
We use a third-party provider, MailChimp, to deliver our newsletters. We gather statistics around email opening and clicks using industry standard technologies to help us monitor and improve our e-newsletter. For more information, please see MailChimp's privacy notice. You can unsubscribe to general mailings at any time of the day or night by clicking the unsubscribe link at the bottom of any of our emails or by emailing our data protection officer
Disclosure of your information
We may share your personal information with any member of our group, which means our subsidiaries, our ultimate holding company and its subsidiaries, as defined in section 1159 of the UK Companies Act 2006.
We may share your information with selected third parties including:


Business partners, suppliers and sub-contractors for the performance of any contract we enter into with them or you.


Direct requests for further information made by you when requesting further information, quotations or brochures on products, articles or news featured on labbulletin.com


Advertisers and advertising networks that require the data to select and serve relevant adverts to you and others.


Analytics and search engine providers that assist us in the improvement and optimisation of our site.




In the event that we sell or buy any business or assets, in which case we may disclose your personal data to the prospective seller or buyer of such business or assets.


If the Company or substantially all of its assets are acquired by a third party, in which case personal data held by it about its customers will be one of the transferred assets.


If we are under a duty to disclose or share your personal data in order to comply with any legal obligation, or in order to enforce or apply our terms of use and other agreements; or to protect the rights, property, or safety of the Company, our customers, or others. This includes exchanging information with other companies and organisations for the purposes of fraud protection and credit risk reduction.


Where we store your personal data
The data that we collect from you may be transferred to, and stored at, a destination outside the European Economic Area ("EEA"). It may also be processed by staff operating outside the EEA who work for us or for one of our suppliers. Such staff may be engaged in, among other things, the fulfilment of your order, the processing of your payment details and the provision of support services. By submitting your personal data, you agree to this transfer, storing or processing. We will take all steps reasonably necessary to ensure that your data is treated securely and in accordance with this privacy policy.
Where we have given you (or where you have chosen) a password which enables you to access certain parts of our site, you are responsible for keeping this password confidential. We ask you not to share a password with anyone.
Unfortunately, the transmission of information via the internet is not completely secure. Although we will do our best to protect your personal data, we cannot guarantee the security of your data transmitted to our site; any transmission is at your own risk. Once we have received your information, we will use strict procedures and security features to try to prevent unauthorised access.
Access to your personal information
You are entitled to view, amend, or delete the personal information that we hold at any time either logging in to your member preferences, by sending an email with your request to our data protection officer or by clicking on the 'unsubscribe' link, which is clearly visible at the bottom of every email.
Changes to this privacy policy
The Company reserves the right to vary or amend this Privacy Policy at any time without notice. Users should review this page regularly as users will be deemed to have accepted a variation in continuing to use the site after it has been posted.