Members Login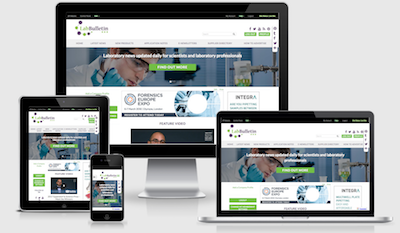 Monthly Newsletter
Lab Bulletin Media Partners
Advertising in the Lab Bulletin e-Newsletter
Whether it's a special offer, product launch, company announcement or industry event, the Lab Bulletin monthly e-Newsletter is a great way to get your message directly to the inbox of over 37,600+ scientists, working in industrial, university, hospital and government laboratories.
Sent out monthly, each e-Newsletter consists of up 15 news slots of up to 500 words accompanied with a colour image along with an email address and up to 3 URL links. Our premium e-Newsletter slots are a fantastic, cost effective solution to both raise your company profile and at the same time generate response. After the mailing of the e-Newsletter a full report containing the details of readers who have clicked though for further information is sent to you.
Over 80% of our community make or influence purchasing decisions so you can be confident that you are reaching the right people.
We have a number of options available that can help your company reach our readers including banners ,video presentations, e-Blasts and newsletter promotions.
In our media pack you'll find a number of options designed to give you the very best ROI. For further information, request a copy of our Media Kit or contact us +44 (0)1438 871968.
If you not already receiving your free copy of the Lab Bulletin Monthly E-newsletter click here and we will add you to our mailing list.
---
| | | | |
| --- | --- | --- | --- |
| Issue | Copy Deadline | Sent Out | Exhibition Coverage |
| January | 26th January 2018 | 31st January 2018 | Pittcon |
| February | 23rd February 2018 | 28th February 2018 | Arablab |
| March | 23rd March 2018 | 28th March 2018 | Analytica |
| April | 20th April 2018 | 25th April 2018 | |
| May | 25th May 2018 | 30th May 2018 | Achema, Scientific Laboratory Show |
| June | 22nd June 2018 | 27th June 2018 | |
| July | 20th July 2018 | 25th July 2018 | HPLC |
| August | 24th August 2018 | 29th August 2018 | |
| September | 21st September 2018 | 26th September 2018 | Analytica China, Lab Innovation |
| October | 26th October 2018 | 31st October 2018 | Medica |
| November | 23rd November 2018 | 28th November 2018 | |
| December | 7th December 2018 | 12th December 2018 | Arablab 2019 |
---