Members Login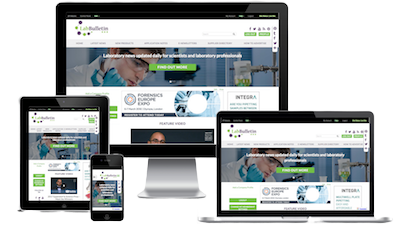 Monthly Newsletter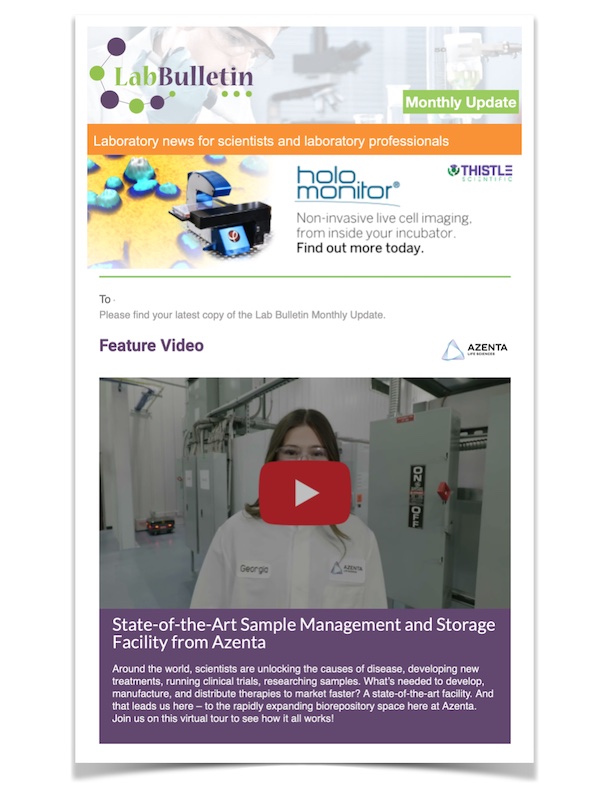 Microscopy | Image Analysis
IT Solutions and Laboratory Automation
Research Newsletter for Biochip User Community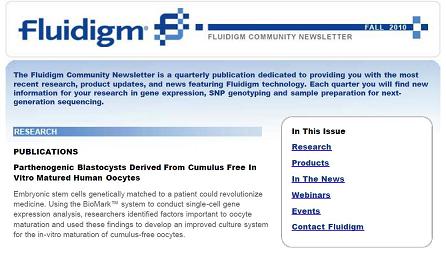 Fluidigm Corporation has announced that the Fall 2010 edition of its community newsletter is now available free to download from www.fluidigm.com/newsletters/Q3%20newsletter-rev2-FINAL.html.
The Fluidigm Community Newsletter is a quarterly publication dedicated to providing you with the most recent research, product updates, and news featuring Fluidigm Integrated Fluidic Circuit (IFC) technology. Each issue is dedicated to providing new information of interest including new products, applications and customer advances to researchers involved with gene expression, SNP genotyping and sample preparation for next generation sequencing.

In the Fall 2010 issue researchers from the Molecular & Cell Biology Group at LGC (Teddington, UK) describe their investigation into the applicability of using digital PCR to estimate absolute limits of detection and quantitation associated with the validation of traditional real-time PCR methods for analysis of genetically modified (GM) ingredients.

A paper from the Institute for Stem Cell Biology and Regenerative Medicine, Stanford University describes how the Fluidigm BioMarkTM system was used to conduct single-cell gene expression analysis identifying factors important to oocyte maturation and using these findings to develop an improved culture system for the in-vitro maturation of cumulus-free oocytes.

A poster from the National Cancer Institute (Frederick, MD, USA) describes how they have accelerated their sample preparation to take full advantage of the high-throughput sequencing capacity from their next-generation sequencers. NCI researchers used the Fluidigm Access ArrayTM system to amplify and tag, in parallel, 48 unique exons from two cancer-related genes in 60 cancer cell lines. The amplicons were pooled and sequenced, identifying 6 mutations and a SNP from this high-throughput screen. This research raises the potential for large-scale screens to identify mutations associated with cancer.

Complimenting the independent customer research publications the Fall 2010 newsletter also provides abstracts describing, and providing links to, the latest application notes, new product introductions, company news, events program and educational webinars from Fluidigm.

Fluidigm develops, manufactures and markets proprietary Integrated Fluidic Circuit (IFC) systems that significantly improve productivity in life science research. Fluidigm's IFCs enable the simultaneous performance of thousands of sophisticated biochemical measurements in extremely minute volumes. These "integrated circuits for biology" are made possible by miniaturising and integrating liquid handling components on a single microfluidic device. Fluidigm's systems, consisting of instrumentation, software and single-use chips, increase throughput, decrease costs and enhance sensitivity compared to conventional laboratory systems.
The Fall 2010 edition of its community newsletter is now available free to download from www.fluidigm.com/newsletters/Q3%20newsletter-rev2-FINAL.html.

* Fluidigm, the Fluidigm logo, BioMark, Access Array, Dynamic Array, Digital Array, FC1, Topaz, and NanoFlex are trademarks or registered trademarks of Fluidigm Corporation. All other trademarks are the property of their respective owners.