New ACE HILIC Method Development Kits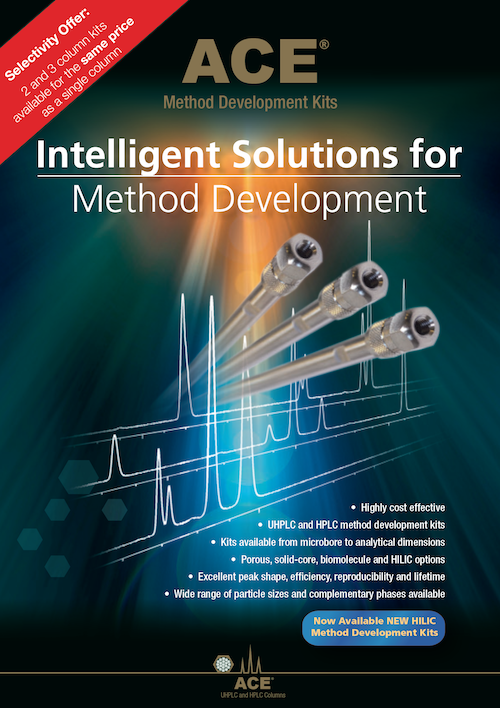 HILIC method development is essential for the successful separation of many polar analytes. New ACE HILIC Method Development Kits are now available to provide you with an unrivalled screening platform for your HILIC analysis. ACE HILIC Method Development Kits group together the acidic character ACE HILIC-A phase, the basic character ACE HILIC-B phase, and the neutral character ACE HILIC-N phase; each offering alternative selectivity – and all three phases are available for the price of just a single column!
Three new ACE HILIC phases – for the price of a single column!
Unbeatable value for money
Powerful method development platform
Available in 1.7, 3, and 5 µm particle diameters
A wide variety of column dimensions available
Ultra-robust up to 1,000 bar (15,000 psi)
ACE HILIC Method Development Kits are just one of a number of ACE Method Development kits including fully porous, superficially porous (solid-core) and bioanalytical kit options – and all offering unbeatable value for money. For more information on ACE Method Development Kits request your copy of the new ACE Method Development Kit brochure – now updated to include the essential ACE HILIC phases.
For further information on any ACE product contact info@ace-hplc.com or click here
---