Members Login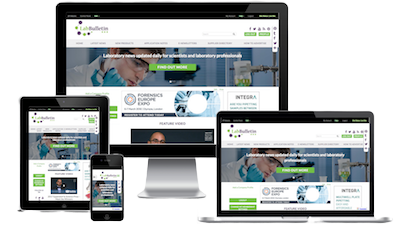 Monthly Newsletter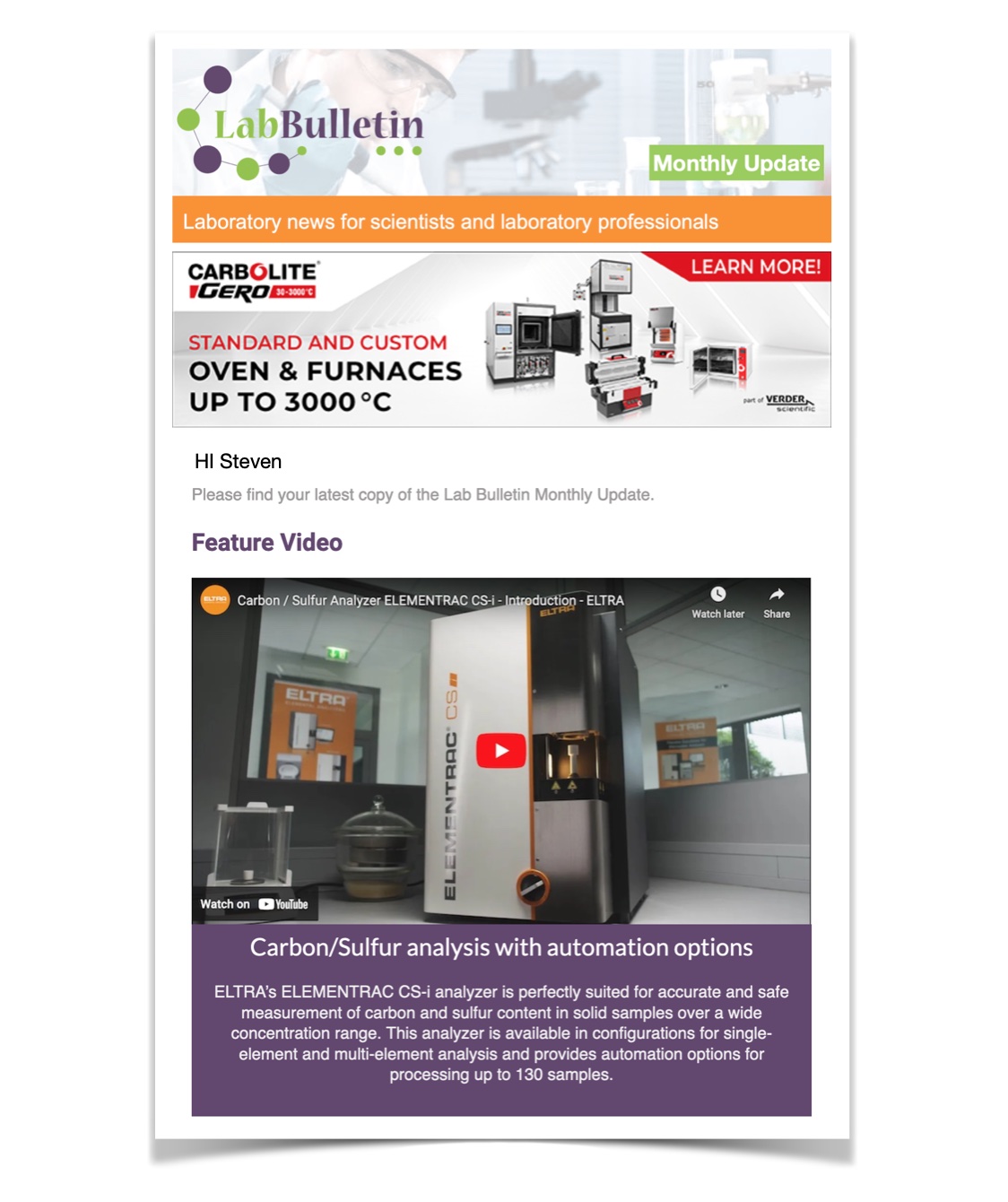 Channels
Special Offers & Promotions
Microscopy & Image Analysis
Laboratory Automation & IT Solutions

Rodent Optic Nerve Head Wins the 49th Annual Nikon Small World Photo Microscopy Competition
publication date:
Oct 30, 2023
|
author/source:
Nikon UK instruments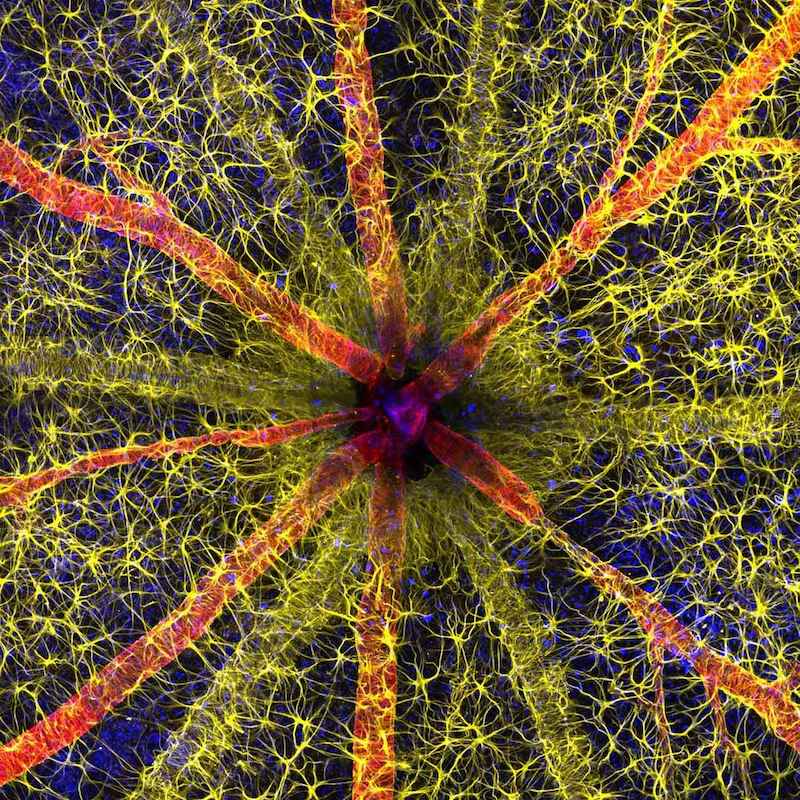 The 2023 first place image showcases a debilitating and prevalent complication of diabetes.
Nikon Instruments Inc. has unveiled the winners of the 49th annual Nikon Small World Photomicrography Competition. This year's first place prize was awarded to Hassanain Qambari, assisted by Jayden Dickson of the Lions Eye Institute, for his vivid image of a rodent optic nerve head showing astrocytes (yellow), contractile proteins (red), and retinal vasculature (green). The colorful image provides an important contribution to the study and reversal of diabetic retinopathy, which affects one in five persons with diabetes worldwide.
Diabetic retinopathy occurs when high blood sugar damages the blood vessels in the tissue at the back of the eye, known as the retina. The damaged blood vessels can swell and leak, which can cause blurry vision or total loss of eyesight. Since 2021, Qambari has devoted his time and research to the early detection and reversal of the disease.
"Current diagnostic criteria and treatment regimens for diabetic retinopathy are limited to the late-stage appearance of the disease, with irreversible damage to retinal microvasculature and function," said Qambari. "The visual system is a complex and highly specialized organ, with even relatively minor perturbations to the retinal circulation able to cause devastating vision loss. I entered the competition as a way to showcase the complexity of retinal microcirculation."
Qambari faced some challenges when capturing his image such as locating fine vessels near 110 microns in diameter and establishing a protocol for labeling different cell types. "Over the past 20 years, our research group has refined the technique of isolated ocular perfusion labeling for fine vessels in the eye," said Qambari. "While the ophthalmic artery in the rodent model presented a technically demanding challenge, we were able to overcome it with persistence and patience."
The final result educates the public about the universal condition affecting millions and the vital research necessary to further advance care. "The Nikon Small World competition is great, as it showcases amazing work across many disciplines from around the world," said Qambari. "All the images presented in the competition represent the beauty and artistic side of science which may otherwise get overlooked. Such a competition not only celebrates the participant's hard work and passion but may also draw and inspire young scientists to pursue a career in STEM. It certainly inspired me."
Like Qambari, Eric Flem, Senior Manager, CRM and Communications at Nikon Instruments, is passionate about sharing exemplary scientific work and artistic techniques. "The past 49 years of this competition have borne witness to many innovative and pioneering advancements in scientific imaging technology," said Flem. "I am consistently awed by how these advancements make it possible to create art out of science for the public to enjoy."
Second place was awarded to Ole Bielfeldt for his image of a matchstick igniting by the friction surface of the box. The image was taken within one eight-thousands of a second and utilized imaging stacking.
Third place was awarded to Malgorzata Lisowska for her image of breast cancer cells.
In addition to the top three winners, Nikon Small World recognized 83 photos out of thousands of entries from scientists and artists across the globe.
The 2023 judging panel included:
Ed Cara, Science and Health Reporter at Gizmodo
James Cutmore, Picture Editor at BBC Science Focus Magazine
Dr. Gary Laevsky, Director of the Confocal Imaging Facility at Princeton University
Dr. Igor Siwanowicz, Research Scientist at Howard Hughes Medical Institute
Dr. Clare Waterman, Cell Biologist and Member of the National Academy of Sciences
About Nikon Small World Photomicrography Competition
The Nikon Small World Competition is open to anyone with an interest in photography or video. In 2024, the competition will celebrate its 50th anniversary. Ahead of the celebration, participants may upload digital images and videos directly at www.nikonsmallworld.com. For additional information, contact Nikon Small World, Nikon Instruments Inc., 1300 Walt Whitman Road, Melville, NY 11747, USA, or phone (631) 547-8569.
Nikon Europe B.V. is the European division of Nikon Healthcare, a world leader in the development and manufacture of optical and digital imaging technology for biomedical applications.