Members Login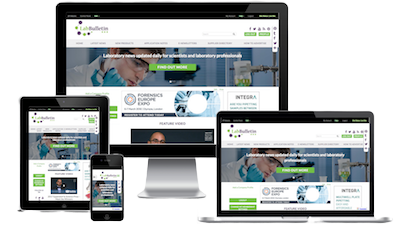 Monthly Newsletter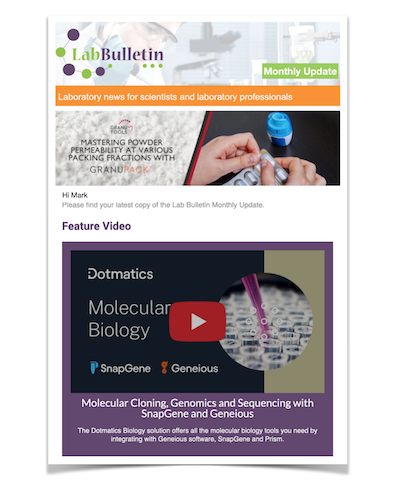 Special Offers and Promotions
Microscopy | Image Analysis
IT Solutions and Laboratory Automation
Zetasizer Nano used to accurately characterize nanoparticles in ecotoxicology study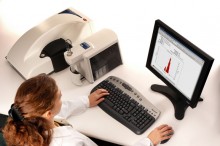 Associate Professor James F. Ranville, from the Department of Chemistry and Geochemistry at the Colorado School of Mines, is using a Zetasizer Nano ZS from Malvern Instruments to characterize nanoparticles as part of an ecotoxicology study.
Designed to quantitatively detect, characterize and assess the environmental health and safety of metal and metal oxides such as nanosilver, the study aims to uncover what happens when these nanomaterials are released into environments such as our water supply and stomach fluids following ingestion. By employing the Zetasizer Nano's dynamic light scattering (DLS) capabilities as an online detector for a flow field flow fractionation-Inductively coupled plasma-mass spectrometry system (Fl FFF-DLS-ICP_MS), Assoc Prof Ranville has been able to distinguish between nanoparticles, ions and aggregates in multi-modal (mixed sized) samples.
"It is now standard procedure to use DLS in a batch mode for the initial analysis of nanoparticles," said Assoc Prof Ranville. "The technique is recognized as being limited for mixed size samples. Likewise the Fl FFF method, which separates a sample by size using a hydrodynamic cross-flow generated field, can also produce flawed results. In the normal-mode of FFF operation, small particles elute before larger ones, and dissolved ions elute almost immediately. However, when dealing with nano sized particles, where stability can be an issue, some may become aggregated and reversibly 'stick' to the membrane during FFF, resulting in a delay in the elution out of the FFF. By coupling DLS with FFF, these limitations can be overcome. As well as delivering highly resolved peak separation following FFF, DLS will also act as verification of the FFF results, distinguishing interacting small species mistakenly identified as large particles."
James F. Ranville describes nanotechnology as an exploding industry with huge growth forecast over next ten years. He believes that we don't yet know enough about the behavior of nanoparticles, and that we require new methods of discovery in order to have a robust means to assess any potential for harm. In particular he highlights the need to assess a material's dose response i.e. the amount required to produce a response in a biological organism, when the nanoparticle contains elements that are considered toxic, for example cadmium containing quantum dots.
As science continues to explore deeper into the realms of nanotechnology and nanomaterials, it becomes necessary for instruments to deliver better, more highly resolved results within these ranges. The Zetasier Nano ZS is part of the Malvern Instruments Zetasizer range and can deliver particle size analysis in the 0.3 nm - 10 µm range, zeta potential in the 3.8 nm - 100 µm range, and molecular weight in the 342 - 2x10
7
Da range.
For further information on the Zetasizer Nano, and other technology from Malvern Instruments, please visit
www.malvern.com/zetasizer