Members Login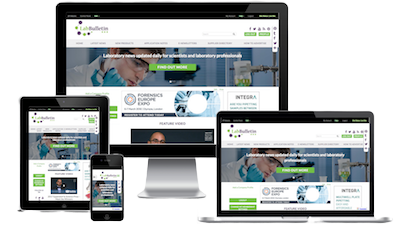 Monthly Newsletter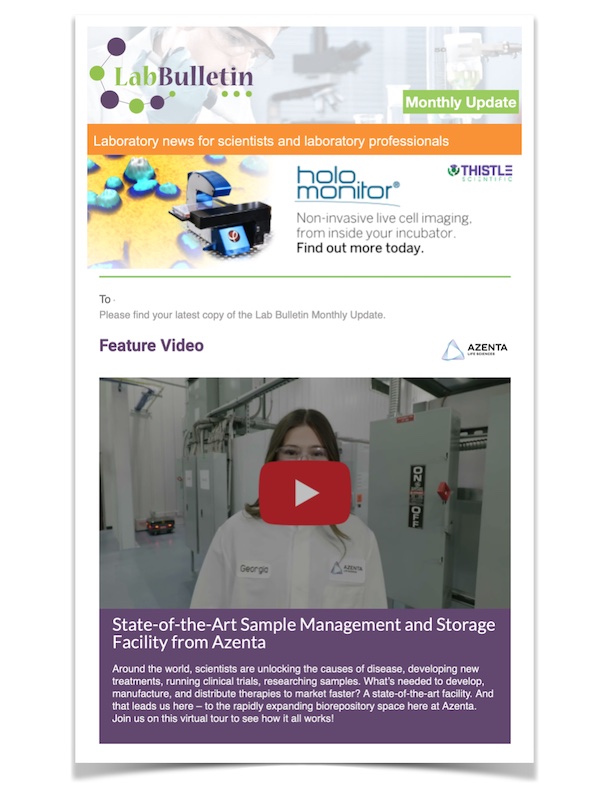 Microscopy | Image Analysis
IT Solutions and Laboratory Automation
The NEW ACE HPLC and UHPLC Columns Catalogue from Advanced Chromatography Technologies is now available
Advanced Chromatography Technologies Limited have published a new HPLC and UHPLC Columns Catalogue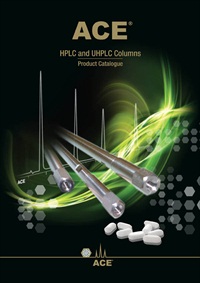 The new catalogue contains details of the full ACE and ACE Excel column ranges, which offer full scalability from 2µm UHPLC columns, through to 3, 5, 10 and 15µm HPLC columns. Additionally, a range of 5 Ultra Inert 300Å phases is available. ACE columns are available in lengths of 20mm to 300mm and i.d.s from 75µm to 30.0mm.


ACE Ultra Inert HPLC Columns

10 selectivities are available, including ACE C18-AR and ACE C18-PFP "Extra Resolving Power" phases; unique C18 bonded phases that have been developed to provide alternative selectivity to other C18 columns. Both ACE C18-AR and ACE C18-PFP combine the hydrophobic characteristics of a C18 phase, with the alternative selectivity offered by either an aromatic phenyl phase (ACE C18-AR) or a pentafluorophenyl phase (ACE C18-PFP), enabling the benefits of multiple interactions to be fully exploited. Both phases exhibit ultra low bleed to ensure LC-MS compatibility and demonstrate excellent temperature and pH stability. ACE columns are also available with C18, C8, C4, CN, AQ, Phenyl, C18-HL and Silica phases.


ACE Excel 2µm Ultra Robust UHPLC Columns

ACE Excel UHPLC columns offer all the benefits that chromatographers have come to expect from ACE HPLC columns (exceptional reproducibility and robustness, combined with excellent quality and efficiency) but have been especially engineered to withstand the demanding conditions of UHPLC. These 2µm columns are available in a wide range of selectivities, including ACE C18-AR and ACE C18-PFP phases, enabling chromatographers to take advantage of the extremely powerful benefit of selectivity combined with efficiency. ACE Excel columns are also available with C18, C8, C4, CN, AQ, Phenyl and Silica phases. ACE Excel Ultra Robust UHPLC columns are packed with the same "Ultra Inert" particles that have set industry standards for purity and efficiency in ACE HPLC columns, resulting in a range of columns that is fully scalable from UHPLC to HPLC. ACE Excel UHPLC columns are compatible with all UHPLC and HPLC systems and are robust up to 1,000bar (15,000psi) and temperatures up to 100°C. ACE Excel UHPLC columns are also available with both 3µm and 5µm particles.


ACE Ultra Inert 300Å Phases for Peptide and Small Protein Separations

The ACE range includes 5 Ultra Inert 300Å phases (C18-300, C8-300, C4-300, CN-300 and Phenyl-300) for peptide and small protein separations. ACE 300Å phases are available in 3, 5 and 10µm particle sizes, all of which offer outstanding peak shape and reproducibility.

To obtain your copy of the new ACE catalogue contact your local ACE distributor, email: info@ace-hplc.com or request via our web site

Advanced Chromatography Technologies Limited,1 Berry Street, Aberdeen, AB25 1HF, Scotland, Phone:+44 (0) 1224 704 554, Fax:+44 (0) 1224 841 301
See us at Pittcon 2013 (Philadelphia) Booth 2430
---