Members Login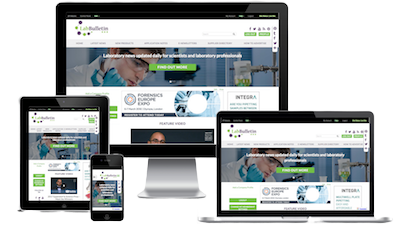 Monthly Newsletter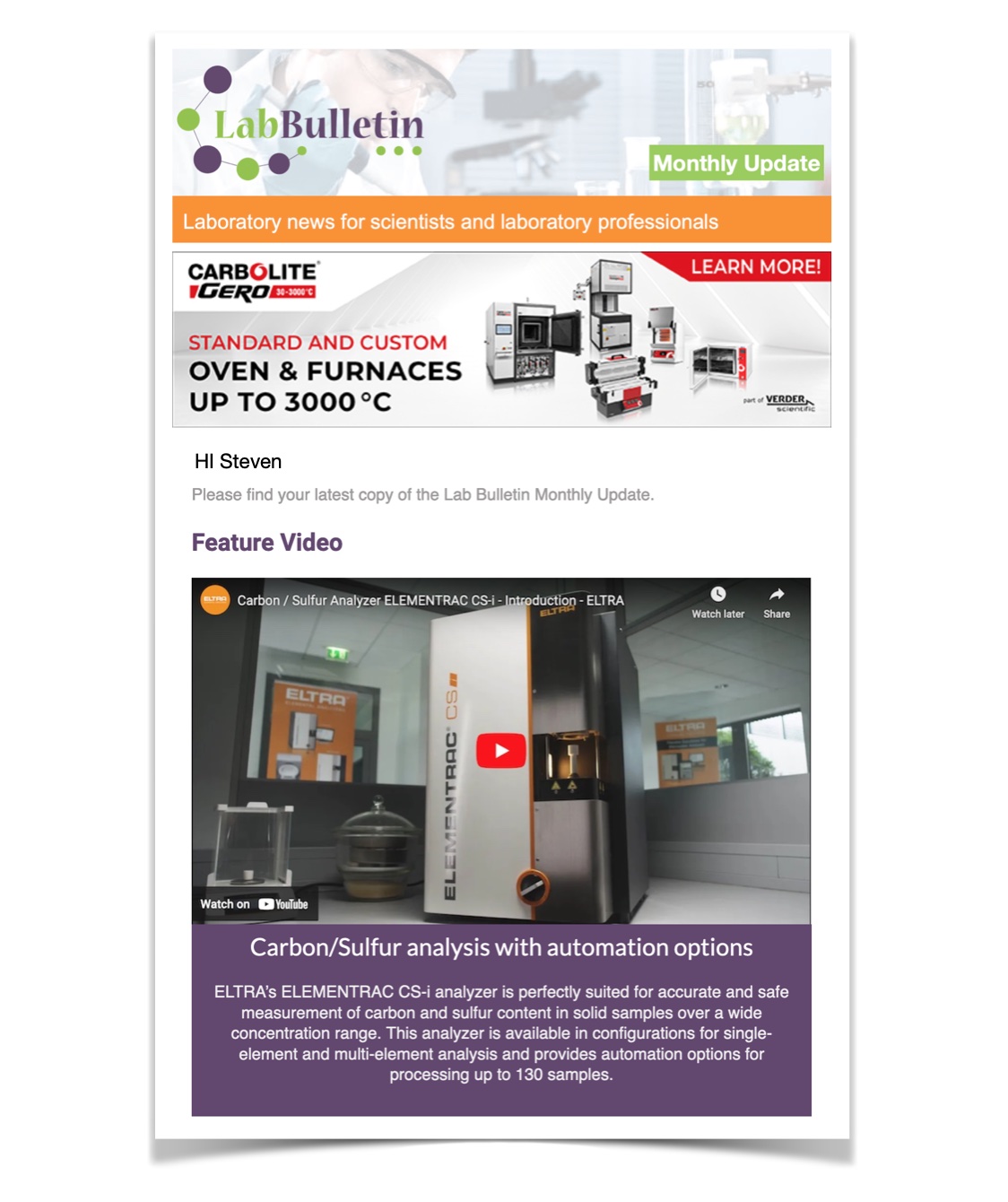 Channels
Special Offers & Promotions
Microscopy & Image Analysis
Laboratory Automation & IT Solutions

ZEISS Introduces All-in-One Cell Imaging System
publication date:
Jan 16, 2023
|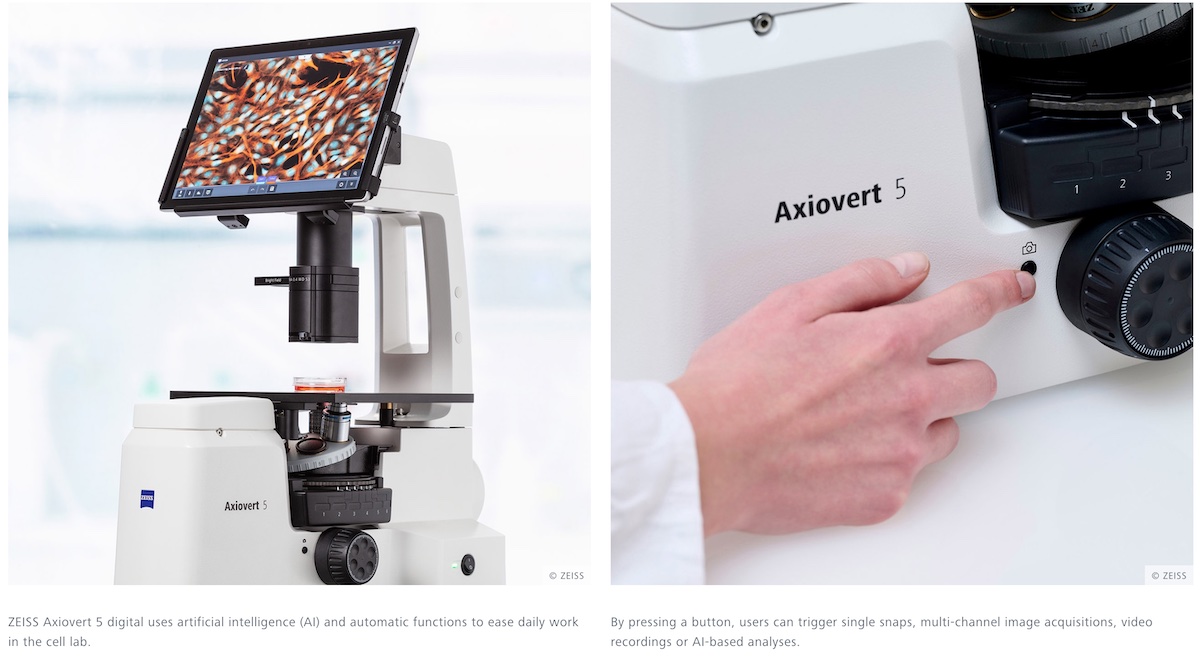 Work outside the Box with ZEISS Axiovert 5 digital
ZEISS introduces its new all-in-one cell imaging system. ZEISS Axiovert 5 digital uses artificial intelligence (AI) and automatic functions to ease daily work in the cell lab. From scientific routine to basic research, from phase contrast to multichannel fluorescence imaging, processes become more efficient and results more reproducible. The system comes with an intuitive operating concept. Even novice users are guaranteed to produce brilliant images with ZEISS Axiovert 5 digital. Settings or adjustments take place automatically.
Flexibility and Speed
Lab technicians and researchers can use brightfield, phase and fluorescence contrast to investigate cell or tissue cultures. By pressing a button, the system takes over and automatically adjusts exposure time, acquires the image, switches the channel, and starts again. The images are automatically stored with all the microscope's metadata, as well as scaling information.

AI-assisted Workflows
ZEISS Axiovert 5 digital uses AI to optimally support workflows. Cell counting and cell confluency can be automatically determined by readily available AI modules with a click of a button. Users can instantly measure and display the percentage of cell coverage or number of cells in their Petri dish.

Easy and Ergonomic Handling
The ergonomic design of ZEISS Axiovert 5 digital supports proper system operation and thus makes it the perfect fit for multi-user environments. By pressing a button, users are able to trigger single snaps, multi-channel image acquisitions or video recordings – with minimal training and prior knowledge.
About ZEISS
ZEISS is an internationally leading technology enterprise operating in the fields of optics and optoelectronics. In the previous fiscal year, the ZEISS Group generated annual revenue totaling 8.8 billion euros in its four segments Semiconductor Manufacturing Technology, Industrial Quality & Research, Medical Technology and Consumer Markets (status: 30 September 2022).
For its customers, ZEISS develops, produces and distributes highly innovative solutions for industrial metrology and quality assurance, microscopy solutions for the life sciences and materials research, and medical technology solutions for diagnostics and treatment in ophthalmology and microsurgery. The name ZEISS is also synonymous with the world's leading lithography optics, which are used by the chip industry to manufacture semiconductor components. There is global demand for trendsetting ZEISS brand products such as eyeglass lenses, camera lenses and binoculars.
With a portfolio aligned with future growth areas like digitalization, healthcare and Smart Production and a strong brand, ZEISS is shaping the future of technology and constantly advancing the world of optics and related fields with its solutions. The company's significant, sustainable investments in research and development lay the foundation for the success and continued expansion of ZEISS' technology and market leadership. ZEISS invests 13 percent of its revenue in research and development – this high level of expenditure has a long tradition at ZEISS and is also an investment in the future.
With over 38,000 employees, ZEISS is active globally in almost 50 countries with around 30 production sites, 60 sales and service companies and 27 research and development facilities (status: 30 September 2022). Founded in 1846 in Jena, the company is headquartered in Oberkochen, Germany. The Carl Zeiss Foundation, one of the largest foundations in Germany committed to the promotion of science, is the sole owner of the holding company, Carl Zeiss AG.
ZEISS Research Microscopy Solutions
ZEISS Research Microscopy Solutions is the world's only one-stop manufacturer of light, electron, X-ray and ion microscope systems and offers solutions for correlative microscopy. The portfolio comprises of products and services for life sciences, materials and industrial research, as well as education and clinical practice. The unit is headquartered in Jena. Additional production and development sites are located in Oberkochen and Munich, as well as in Cambourne (UK) and Dublin (USA). ZEISS Research Microscopy Solutions is part of the Industrial Quality & Research segment.