Members Login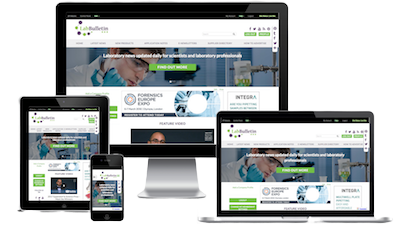 Monthly Newsletter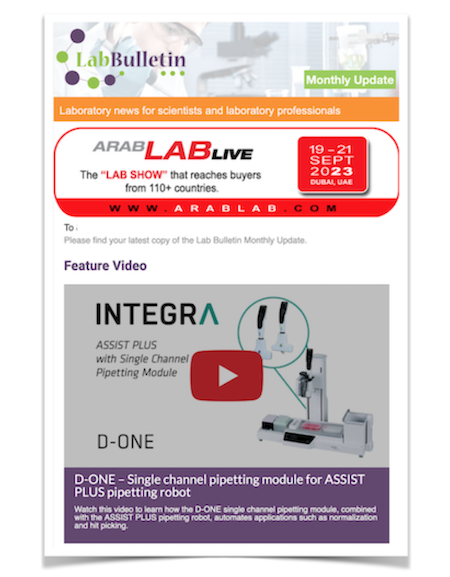 Microscopy | Image Analysis
IT Solutions and Laboratory Automation
New App Note - Profiling of Gin Botanicals by HEADSPACE-SPME ARROW-GCXGC-MSD/FID
publication date:
Feb 24, 2020
|
author/source:
Andrew Ward, JSB© UK & Ireland

---
Profiling of Gin Botanicals by HEADSPACE-SPME ARROW-GCXGC-MSD/FID
Gins are essentially neutral spirit flavoured with various botanicals by compounding or by distillation. There are hundreds of botanicals used to flavour gin, most commonly juniper with other seeds, herbs, roots and fruits. In distilled gins, the aromatic compounds (usually oils) are absorbed by the spirit in which the botanicals are steeped, or by the vapour as it passes through, so flavouring the distillate.
The large numbers of compounds contributing to the aroma and flavour of gins coupled with the fact that flavour- and fragrance-key components can be present at very low concentrations makes chemical profiling challenging.
GCxGC-MS is the ideal analytical technique to accommodate the complexity of the samples due to its enhanced peak capacity and sensitivity. For quantitative purposes, and when using flow modulation, splitting to a FID is a logical choice. Sample preparation and sample introduction introduce further challenges due to the complex nature of the samples.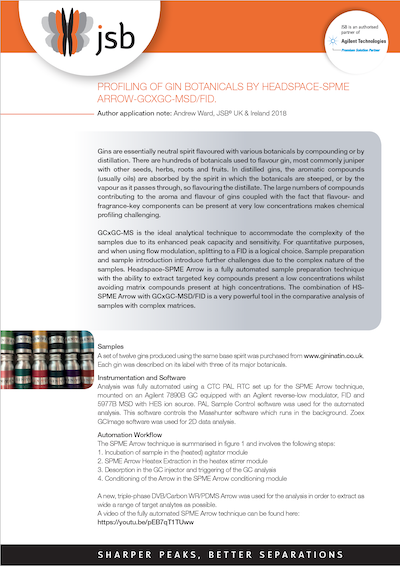 Headspace-SPME Arrow is a fully automated sample preparation technique with the ability to extract targeted key compounds present a low concentrations whilst avoiding matrix compounds present at high concentrations.
The combination of HSSPME Arrow with GCxGC-MSD/FID is a very powerful tool in the comparative analysis of samples with complex matrices.
Find out more by reading the full application note by Andrew Ward, JSB© UK & Ireland.

View | Download the full App Note
A video of the fully automated SPME Arrow technique can be found here:
About JSB
JSB is the supplier of chromatography solutions and consumables for GC, GC-MS, LC, LCMS and GCxGC systems. Gas analyzers, Gas generators, Software and Lab Automation are also part of our expertise.
JSB is a Premium Solution partner of Agilent Technologies in the Benelux. Based on Agilent Technologies systems we create total solutions and everything in between.
As we work together with various international partners, we are flexible and can offer customized system configurations for a variousity of needs. We can create complicated links for GC and / or LC systems with multiple detectors, different types of injection techniques, online process systems, links to the network and numerous of other options.
---