Members Login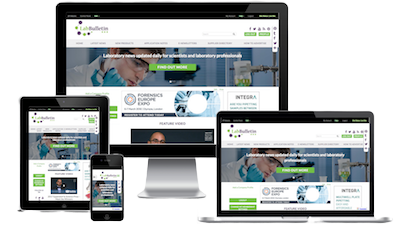 Monthly Newsletter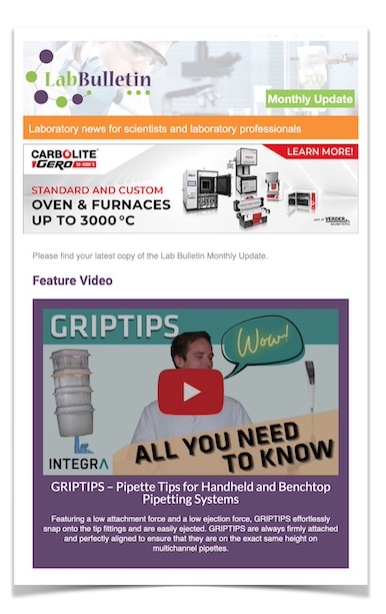 Special Offers and Promotions
Microscopy | Image Analysis
IT Solutions and Laboratory Automation
Froilabo Launches New Range of Bioreactors
publication date:
Oct 24, 2022
|
author/source:
Techcomp Europe Ltd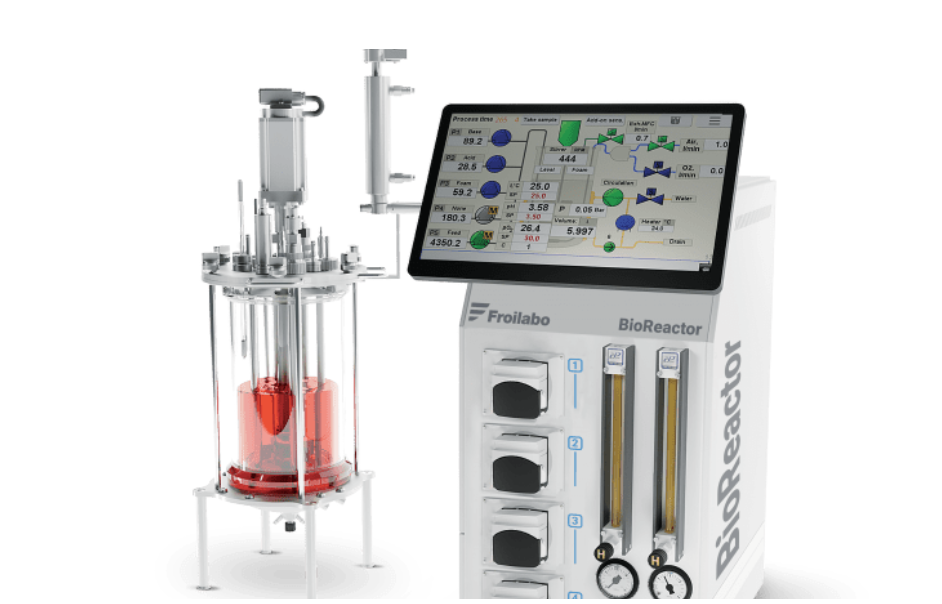 Froilabo are delighted to announce the launch of a new range of fully automated lab-scale bioreactors. Expanding their portfolio of temperature-controlled laboratory equipment, the bioreactors offer a great range of application possibilities suited to academia, research, process development and optimisation, scale-up and production.
The vessels feature a novel magnetic mixer and non-welded lid and are ideal for bioprocesses which require high-grade aseptic conditions. The design of the mixer enables numerous customisation options: the impeller placement, amount and type can be adjusted to best suit the application and may be fixed or detachable, as required. The autoclavable single walled borosilicate glass vessels are available in three different volumes (1, 5 and 15 litre) to make process scaling simple.
The bioprocess controller is simple and intuitive, enabling a high standard of process supervision and control. Featuring a 15" touch screen, the controller has 3 levels of access which are password protected. A specialised version of SCADA is available which is compliant with the requirements of 21 CFR Part 11.
Key Features:
Novel magnetically coupled mixer eliminates the risk of contamination within the vessel since there is no mechanical seal
Uniform lid construction (without welded components) to maintain stable culture conditions
Autoclavable sampling port to facilitate operational activities
Mixing and aeration tailored for microorganisms or cell cultures
Antonin Duval, CEO, says "We have listened to our customers and are delighted to introduce bioreactors to our growing portfolio. As always, we seek to offer the highest quality instruments to our customers in conjunction with outstanding customer support and service"
About Froilabo
Froilabo are manufacturers of high-quality temperature and humidity laboratory equipment and have built a leading reputation based on over 100 years of experience.
The company offers a complete range of products for the preparation and preservation of samples. The range includes ULT freezers, ovens, incubators, climatic chambers and temperature forcing systems. All Froilabo devices are manufactured and approved according to EN60068-3-11. The preservation of the sample under all circumstances is at the heart of the Froilabo product development strategy.
About Techcomp Europe Ltd
Techcomp Europe Ltd (owned by Techcomp (Holdings) Ltd), based in the UK, comprises of a group of European companies involved in the manufacture and distribution of analytical systems, life science equipment and laboratory instrumentation with operations dating back to 1920. In addition to Froilabo, the Group consists of:
Edinburgh Instruments – a leader in photonics technology. Based in Scotland they manufacture state-of-the-art and bespoke spectroscopic systems for various spectroscopy markets including Photoluminescence, Raman, UV-Vis and Transient Absorption.
Precisa – offering a complete range of high precision metrology and weighing solutions which are developed and manufactured in Switzerland. Featuring the latest weighing technology, the Series 520 balances feature PHASTbloc® technology, making them one of the most economical and sustainable balances on the market.
Edinburgh Sensors – a world leader in gas detectors and gas sensing solutions. Based in Scotland, the portfolio includes Guardian NG gas monitor and a range of other monitors and OEM solutions.
Scion Instruments – experts in Gas Chromatography and Single Quadrupole Mass Spectrometry. With operations in the UK and The Netherlands the portfolio features the Scion 8900 TQ GC-MS and other gas & liquid chromatography solutions.
Isotopx – the leaders in inorganic magnetic sector Mass Spectromters specialising in Thermal Ionisation and Noble Gas Mass spectrometers. The ground-breaking Phoenix TIMS future-proofs any lab for new applications.
Dynamica – supplies a wide range of analytical and laboratory instruments including centrifuges and DNA analyzers and are based in the UK.