Members Login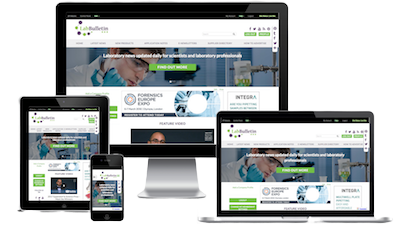 Monthly Newsletter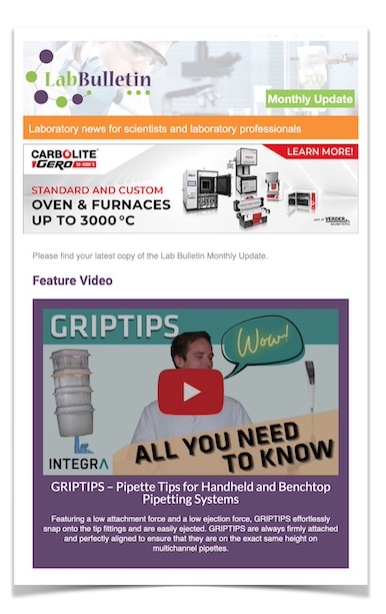 Special Offers and Promotions
Microscopy | Image Analysis
IT Solutions and Laboratory Automation
Thermo Fisher Scientific Transforms Chromatography by Reimagining UHPLC
publication date:
Aug 1, 2014
|
author/source:
Thermo Fisher Scientific
Thermo Fisher Scientific, the world leader in serving science, today unveiled a new high performance liquid chromatography system designed from the ground up to provide new levels of performance, productivity and usability when used as a standalone system or with the latest mass spectrometers.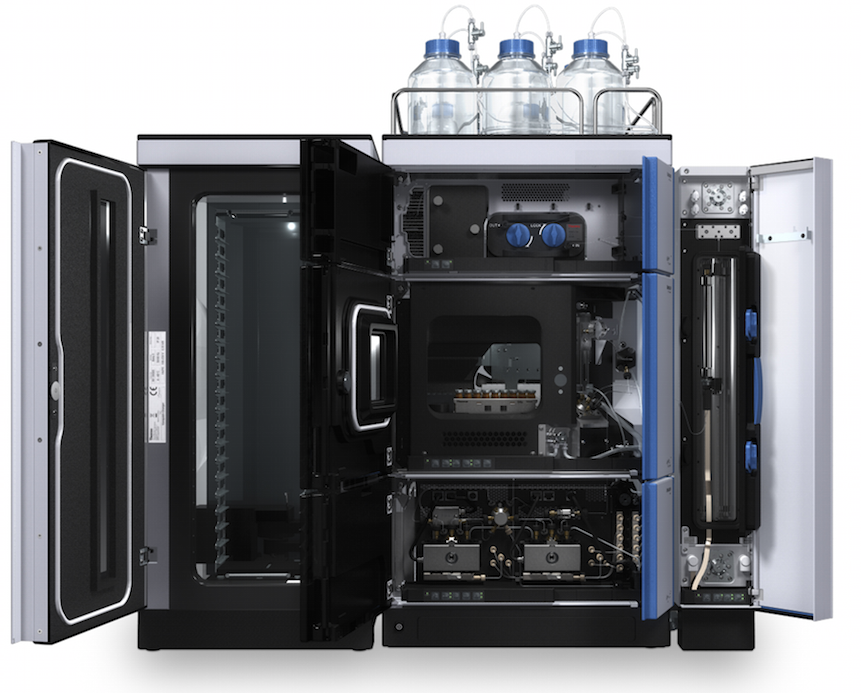 The new Thermo Scientific Vanquish UHPLC looks different from standard UHPLC systems, and there are benefits to its clean design. The monolithic case contains an instrument that combines the ruggedness of an integrated system with the flexibility and serviceability of a modular system. Vanquish stands about 25 percent lower than comparable modular stacks for safety and convenience in the laboratory.
"Rather than making incremental improvements to UHPLC, Thermo Fisher Scientific has designed this system from the ground up. The result is a system that combines advantages in separations performance, sample throughput, ease-of-use, reproducibility and method transfer efficiency," said Fraser McLeod, vice president and general manager, HPLC, Thermo Fisher Scientific.
Central to the Vanquish concept is the new family of Thermo Scientific Accucore Vanquish UHPLC columns, specially designed to optimize performance. The new columns feature 1.5 µm solid core particles utilizing Core Enhanced Technology to take full advantage of the Vanquish system's 1500 bar (22,000 psi) maximum pump pressure and flow rate up to 5mL/min for ultra-short diffusion path lengths and highly efficient separations.
Other features add to the system's performance, throughput and usability, including:
SmartFlow pumping technology designed for highly reproducible retention times and low baseline noise to enhance detection sensitivity;
Temperature control capabilities, including direct heating and forced air temperature control modules in the column compartment, further enhancing separation efficiency and selectivity, as well as retention time reproducibility;
An insulated autosampler compartment with new air-to-air cooling, which protects vials from water condensation, even in hot and humid environments;
Gold-standard Thermo Scientific Dionex Chromeleon Chromatography Data System, familiar in laboratories around the world, which can calibrate the system automatically and unattended. eWorkflow and Intelligent Run Control automation are designed to enhance data quality and instrument efficiency Instant data reprocessing paired with Cobra Peak Detection and Smart Link can speed data review significantly compared to manual procedures. Chromeleon software supports chromatography and mass spectrometry functions simultaneously.
Optional handheld tablet lets users conveniently monitor system status, check runs and make changes.
For high sample throughput applications, the optional Thermo Scientific Vanquish Charger is a fully integrated robotic module that provides unattended, environmentally controlled sample management and loading into the Vanquish UHPLC system. It accommodates up to nine sample racks, deep well plates or 20 shallow well plates. This includes a bar code reader with empty shelf detection and rack/well plate verification. Users can add samples at any time, even while the instrument is operating, to enable maximum throughput and usability.
Hard carbon-coated ceramic injection valve and pump pistons are designed to deliver consistent, reproducible performance for 200,000 injections, further enhancing uptime by minimizing maintenance.
The Vanquish's Diode Array Detector is designed to generate high-confidence data over a wide linear range with high signal-to-noise performance, beyond the capabilities of variable wavelength detectors. Low-dispersion 10 mm and 60 mm flow cells provide high sensitivity levels and wide linearity for demanding applications. Fused-silica LightPipe flow cells are designed to exploit low baseline drift for reproducible quantitation. Customers can acquire up to 10 signal channels simultaneously, and a spectrum 3D field at 200 Hz. Sensitivity, linearity, and spectral resolution can be tailored to suit the application using four programmable optical slit widths from 1 nm to 8 nm.
---
more about thermo fisher scientific
---
more news from thermo fisher scientific
---