Members Login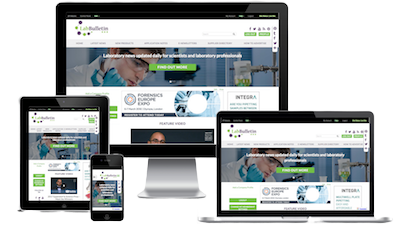 Monthly Newsletter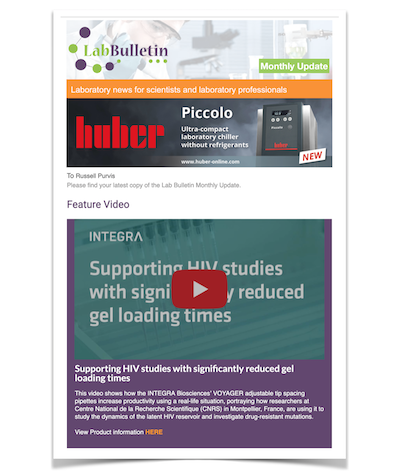 Special Offers and Promotions
Microscopy | Image Analysis
Sygnature Discovery Celebrates Official Opening of New Research Laboratories with a Symposium of World Class Science
publication date:
May 1, 2012
|
author/source:
Integra Communications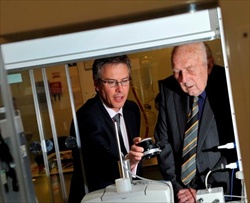 Sygnature Discovery, a leading provider of integrated drug discovery services to the pharmaceutical industry, today celebrated the official opening of its new research laboratories with a symposium of world class science. Dr Stewart Adams OBE, the inventor of ibuprofen, started the festivities by officially opening the third laboratory in Sygnature's purpose-designed and built "state-of-the-art" facility. This is the largest laboratory in the company's operations, located in the Laurus Building, BioCity Nottingham, with the capacity to house 25 medicinal chemists and
in vitro
biologists. Sygnature Discovery currently employs 56 laboratory-based scientists in three laboratories and has the space to accommodate over 70 chemists and biologists. There is also additional room to build further laboratories and offices for new staff.
Following the official opening, there was a drug discovery symposium attended by clients, pharmaceutical professionals, students from local universities and Sygnature staff. The symposium began with a welcome by Mr Toby Reid, Director, BioCity Nottingham, and an introduction by Dr Simon Hirst, CEO, Sygnature Discovery. It then continued with scientific presentations by a host of top class speakers. These included Dr John Dixon, JD International Consulting Ltd. (formerly VP, Drug Discovery, at AstraZeneca R&D Charnwood); Dr Pete Strong, CSO, RespiVert Ltd. (part of Janssen Biotech); Prof Michael Shipman, University of Warwick and Prof Christopher Moody, University of Nottingham.
Following this prestigious event, Dr Simon Hirst, Sygnature's CEO commented, "I am very pleased that Sygnature Discovery has been able to celebrate its on-going growth and success with a symposium of world class science attended by clients, senior industry researchers, students and staff. It was a highly-enjoyable occasion and focused on what I feel sets Sygnature Discovery apart from our competitors - the science. Over the past 7 years, the intellectual input and practical laboratory skills of our high calibre medicinal chemists and bioscientists has been crucially important to the success of our clients' drug discovery projects. It is also the reason why Sygnature Discovery has grown to 65 employees and increased its turnover by 40% in two successive financial years. Sygnature is fast becoming a leading UK-based provider of integrated drug discovery services and today's symposium was a celebration of the science of drug discovery within the company, the East Midlands and the UK."
For more information go to
www.sygnaturediscovery.com
About Sygnature Discovery
Sygnature Discovery is a leading United Kingdom-based provider of integrated drug discovery solutions. Sygnature employs 56 laboratory-based medicinal chemists and
in vitro
biologists in a modern, purpose-built facility in BioCity Nottingham. >75% of these scientists have PhDs and most have 10-22 years drug discovery experience with companies such as AstraZeneca, Pfizer, Merck and OSI Pharmaceuticals. Sygnature's industry-experienced team adds considerable value to clients' discovery activities by undertaking complete, integrated drug discovery programmes and key elements of the drug discovery process; such as hit finding, hit-to-lead and lead optimisation. Sygnature's scientists also provide significant intellectual input into clients' projects; thereby generating novel intellectual property. Key areas of expertise include medicinal and computational chemistry,
in vitro
biology/screening, ADME/toxicology (through a strategic alliance with Cyprotex Discovery) and pre-clinical experimental services (through a strategic alliance with Saretius).