Members Login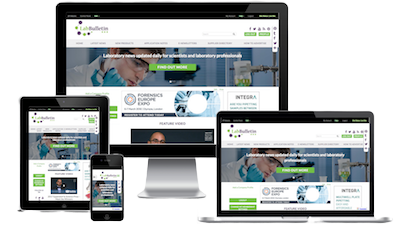 Monthly Newsletter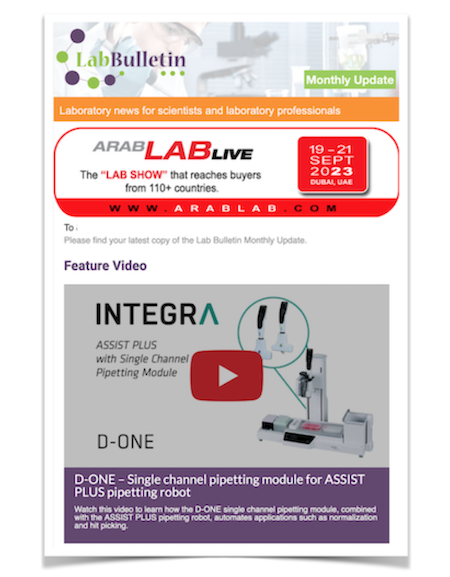 Microscopy | Image Analysis
IT Solutions and Laboratory Automation
New Application Note from BMG Labtech "The ELISAONE assay performed on the POLARstar Omega"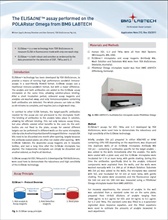 ELISAONE ™ technology has been developed by TGR BioSciences, to provide a means of running high performance sandwich immunoassays in a user-friendly 96-well format. ELISAONE assays use a traditional immuno-sandwich format, but with a major difference.The analyte and both antibodies are added to the ELISAONE assay microplate at the same time, allowing solution-phase binding. After a short incubation period, unbound assay reagents and analytes are washed away, and only immunocomplexes containing both antibodies are detected. The whole process can take as little as 60 minutes to complete, and requires just a single wash step.
In contrast to other ELISA formats, the target-specifi c antibodies needed for the assay are not pre-bound to the microplate itself. The binding of antibodies to the analyte takes place in solution, allowing for efficient binding. This not only reduces assay times, but also affords several other benefi ts to the user. As the antibodies are not fixed to the plate, assays for several different targets can be performed in different wells on the same microplate, side-by-side. Another important benefit is reagent lifetime – many ELISA kits need to be discarded one month after opening, largely because the antibody-coated plates are often not stable after opening. With ELISAONE however, the expensive assay reagents are in reusable bottles, and last a long time after the ELISAONE microplate has expired. The inexpensive microplate can simply be discarded and another ordered, as they're all identical.
ELISAONE assays for EGF, TNFá and IL-2 developed by TGR BioSciences, were used here to demonstrate the robustness and high sensitivity of the ELISAONE technology.
To view the full article, please click here