Members Login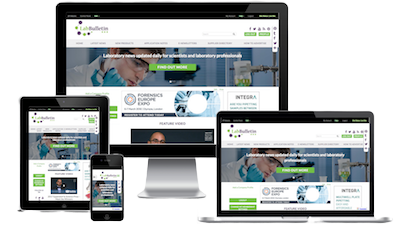 Monthly Newsletter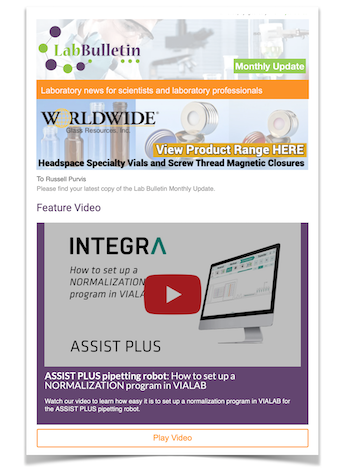 Special Offers and Promotions
Microscopy | Image Analysis
Automating Viral RNA Genotyping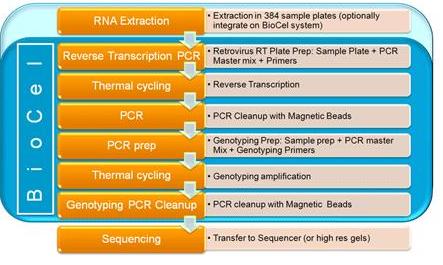 Agilent Automation Solutions has released a new applications bulletin that describes an automated system for rapid characterization of pathogens, including for example the Influenza A (H1N1) virus.

Designed and built for researchers at Los Alamos National Laboratories and UCLA - the new BioCel PCR Viral Genotyping System provides rapid, reliable and efficient automated genetic sequencing of viruses. The new system is shown to automatically sequence 40 RNA samples across 192 genes in just 11 hours. Using Agilent VWorks dynamic scheduling software, the system can sequence a minimum of 10,000 influenza viruses per year. In situations where viral outbreak reaches pandemic proportions, the throughput of the system can be doubled by running two shifts per day.

The BioCel System used in this application, comprising a variety of Agilent liquid handling options and third party devices including thermal cyclers, incubators and plate storage devices, was a dual robot system designed to optimally address the two steps of the PCR workflow. One side of the dual robot system was for reaction preparation and clean-up, the other side for running the actual PCR reaction. The system can be extended to address other components of the workflow including the upstream nucleic acid extraction step.

For further information please contact your local Agilent sales office or visit www.chem.agilent.com/en-US/Products/Instruments/automation/Pages/ViralRNAGenotyping.aspx to download the applications bulletin.
The Agilent BioCel System automates any microplate-based protocol providing maximum walk-away time and throughput, all in the most compact design. With modular cells, options for various enclosures, and environmental control, BioCel Systems can be tailored to your individual needs. Operated by Agilent VWorks software, the most flexible and efficient scheduling software available, BioCel Systems are proven to deliver the longest walk away time and throughput of any integrated system.

From stand-alone units to fully integrated systems, Agilent Automation Solutions teams key sample preparation and creative walk-away automation approaches with personalised customer service to provide complete solutions for your laboratory. Combining innovative engineering with high standards of quality, Agilent designs and manufactures high-performance equipment for processes that are revolutionising pharmaceutical, biotech, and genomic research.