From field to lab to the loading dock, the perfect system for NIR materials testing.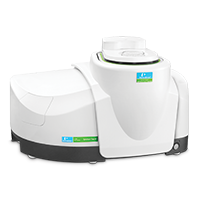 Whether you're performing ID testing or quantitative analysis for food, pharmaceuticals, polymers, or petroleum, you often need to test where the samples are – onsite, and on the fly. But you can't sacrifice high performance for portability – which means your FT-NIR needs to deliver the same levels of sensitivity, resolution, and throughput, inside and outside the lab.
That's the whole idea behind the Spectrum Two N™ FT-NIR system: It combines high-end performance with the ease-of-use features of a portable instrument, so novice and seasoned scientists alike can be proficient with it in no time. And you can choose from a wide range of software, including packages that combine touchscreen simplicity with rock-solid security – perfect for highly regulated environments.
But what really sets the Spectrum Two N system apart are its state-of-the-art, plug-and-play accessories:
Near Infrared Reflectance Module (NIRM) for fast, simple measurements, perfect for detection and quantification of raw materials in pharmaceuticals, food, and more
Heatable Transmission Module (HTM) – the perfect solution for solid fraction oils such as coconut and palm, with capability for heating three vials at a time for improved throughput
Remote Sampling Module (RSM) delivers a trigger-based probe for error-free operation, with no sample prep and no need to open packaging
The Spectrum Two N system: It's high-performance FT-NIR, wherever you want it.
---
---
---