Members Login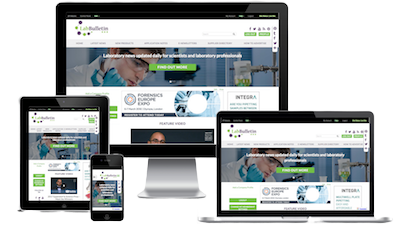 Monthly Newsletter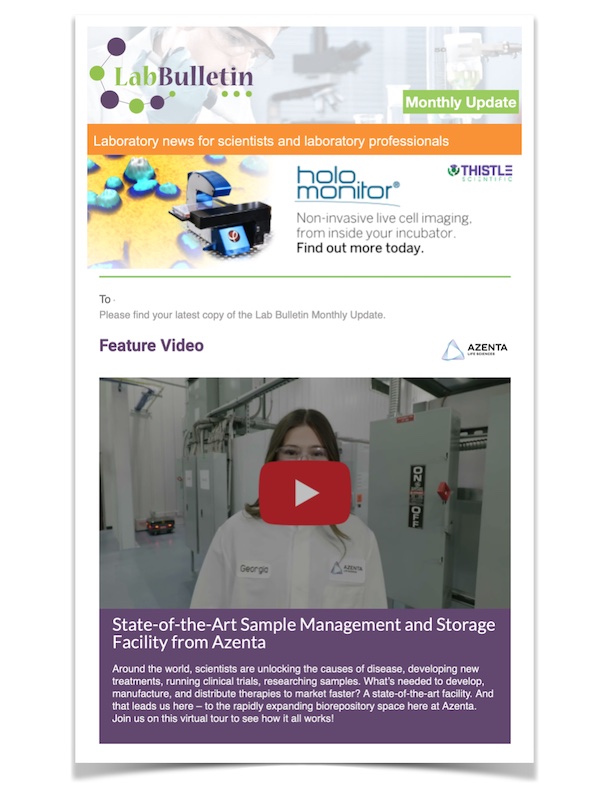 Microscopy | Image Analysis
IT Solutions and Laboratory Automation
Thermo Fisher Scientific Expands Bio HPLC Column Portfolio
New Accucore HPLC Columns Enhance Peak Capacity and Run Times for Protein and Peptide Separations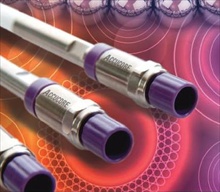 Thermo Fisher Scientific Inc., the world leader in serving science, today expanded its portfolio of Thermo Scientific Accucore columns with a range of columns for biomolecule separations. Available in analytical, micro and nano formats, the new Accucore
TM
150-C18 and Accucore 150-C4 columns are designed to improve protein and peptide assay robustness by enhancing peak capacity and run times at moderate operating pressures.
Thermo Fisher introduced the new
Accucore HPLC and nanoLC columns at HPLC 2012 in Anaheim, Calif. within Thermo Scientific booth 121.
The 150 angstrom pore diameter of the solid core particles is designed to provide the optimal combination of retention time and resolution for peptides and proteins. The Accucore 150-C18 has been further optimized for biomolecules and protein digests through bonding of C18 ligands onto the porous outer layer of the particles. The low hydrophobicity C4 ligand used in the Accucore 150-C4 column enables fast protein separations.
"In the pharmaceutical industry, biological drugs continue to make gains compared to conventional drugs, with a significant rise anticipated between 2010 to 2016*," said Darren Thomas, business director, Chromatography Consumables Solutions, Thermo Fisher. "We believe that the Accucore family of columns will accelerate time to market for these large-molecule based drugs."
Accucore columns are based on Core Enhanced Technology
TM
, featuring solid core particles engineered to an average size distribution of 1.12. A result is high-resolution separations with backpressures significantly lower than those of UHPLC. Advanced bonding technology produces excellent peak shapes through high bonding coverage and minimized secondary interactions. The automated packing processes produce uniform, tightly-packed columns that are robust and reproducible.
For more information about Accucore HPLC columns, please visit:
www.thermoscientific.com/accucore150
.
Details about the entire portfolio of Thermo Scientific chromatography columns and supplies are available in the new
2012-2013 Thermo Scientific Chromatography Columns and Consumables catalog
. It is organized by four easy-to-reference segments: sample preparation, vials and closures, GC and LC. To order it in hardcopy or electronically, please visit
www.thermoscientific.com/catalog
.
*EvaluatePharma ® 25 May 2011

About Thermo Fisher Scientific
Thermo Fisher Scientific Inc. is the world leader in serving science. Our mission is to enable our customers to make the world healthier, cleaner and safer. With revenues of $12 billion, we have approximately 39,000 employees and serve customers within pharmaceutical and biotech companies, hospitals and clinical diagnostic labs, universities, research institutions and government agencies, as well as in environmental and process control industries. We create value for our key stakeholders through three premier brands, Thermo Scientific, Fisher Scientific and Unity
TM
Lab Services, which offer a unique combination of innovative technologies, convenient purchasing options and a single solution for laboratory operations management. Our products and services help our customers solve complex analytical challenges, improve patient diagnostics and increase laboratory productivity.