Members Login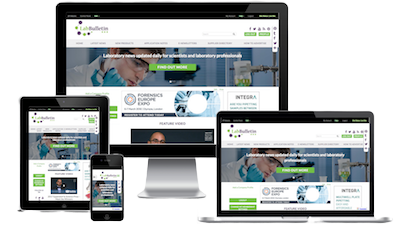 Monthly Newsletter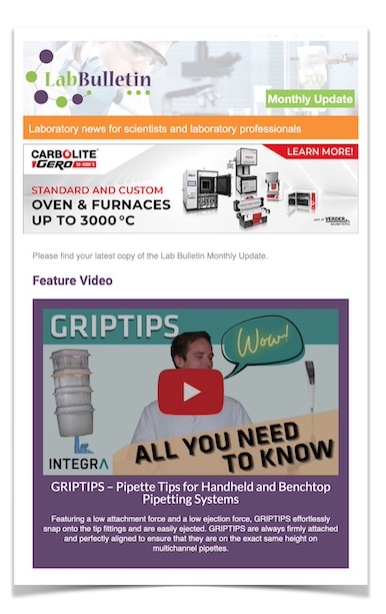 Special Offers and Promotions
Microscopy | Image Analysis
IT Solutions and Laboratory Automation
Award-winning Mastersizer 3000 is tribute to skills of development team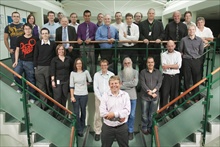 Beauty that's more than skin deep!
Since Malvern Instruments revealed the new Mastersizer 3000 laser diffraction particle size analyzer to the world it has become clear that the development team's vision of a beautifully designed, technologically advanced system that anyone can use has been realized. Certainly that's what initial feedback suggests! The Mastersizer 3000 delivers the widest measurement range available in a single system (10 nm to 3.5 mm), encompasses significant advances in dry powder dispersion to extend dry measurement to more materials, and its smart software ensures that making good particle size measurements is effortless for novices and experts alike.
"We're really excited by people's response to the new system and the way they see it easing their workload," said Paul Kippax, Malvern's Product Group Manager for diffraction. "Delivering so many productivity advantages in such a beautiful package is a real tribute to the expertise and skill of the Mastersizer 3000 product development team at Malvern. And I'm pleased to say that they've all been sharing their experiences on the Malvern blog at
www.materials-talks.com
."
"When defining the project, we asked the team to halve the length of the optical bench. Not only were they able to do that, they also improved ease-of-operation and performance at the same time. The engineering throughout is remarkable and delivers enhanced functionality, particularly in the sample dispersion accessories," continues Paul. "And the software team started from scratch, putting in place a customer-led test program to produce a system that offers streamlined method development and user-friendly data generation tailored to individual needs."
The new Mastersizer 3000 is the product of extensive customer consultation and feedback, and its design and capabilities reflect the needs of users across the widest possible range of industries and applications. It has been engineered to make routine particle sizing even simpler and more automated so that all users, whether they are expert analysts or have little particle sizing experience, can quickly and easily make good, reliable measurements across an extended measurement range. Since bench space is always in short supply, the new instrument has been developed to have the smallest possible footprint, an achievement that has required a complete re-engineering of its highly sophisticated optics.
The Mastersizer 3000 delivers precise high-resolution wet and dry sample measurement from 10 nm to 3.5 mm, with rapid, reliable operator-independent measurements, for increased lab productivity. A range of sample dispersion accessories offers a solution for every application, including dry dispersion of even fragile particles. The system's simple intuitive software is designed to lighten the analyst's workload, driving user-defined measurement and delivering data in a format tailored to the user's own requirements
Now, anyone can make good measurements and get exactly the data they need quickly and easily with the Mastersizer 3000. The system's flexibility makes it ideal for the multitude of particle sizing applications for which laser diffraction is now the technique of choice.
Read about the experiences of the Mastersizer 3000 development team at
www.materials-talks.com