Members Login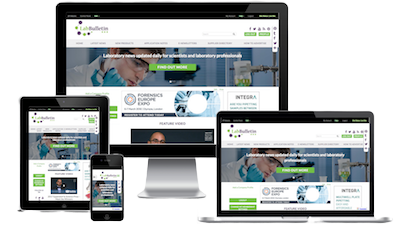 Monthly Newsletter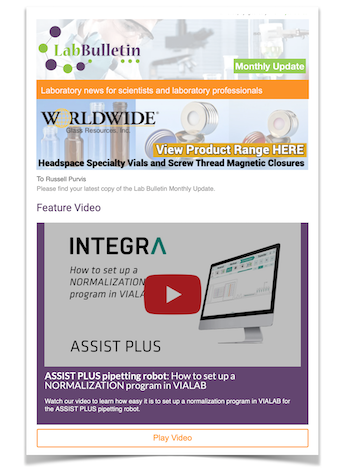 Special Offers and Promotions
Microscopy | Image Analysis
Automated additions to reactors up to 100ml/min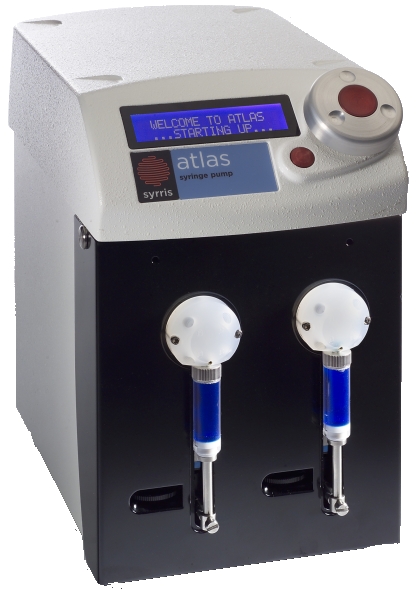 Royston, UK (19th November 2009) – The Atlas Syringe Pump XL, from leading chemistry automation product innovator, Syrris, is a versatile volumetric dosing and/or sampling system consisting of two syringes, with up to six port valves. With a wide flow rate range of 5 µl/min up to 100 ml/min, it can be configured either into two refilling flows or one continuous flow, providing reaction sampling, advanced pH control, and temperature-dependent dosing, for unrivalled flexibility. It also offers the highest possible chemical resistance.
Each syringe can aspirate or dispense independently from any valve port, allowing dosing of one reagent to many reactors or many regents to one reactor. In addition, the Atlas Autosampler Module can be connected directly to one syringe, where it can aspirate up to six samples from the reactor at user-defined intervals. This enables automated dosing from one syringe, while taking six samples from the other. Alternatively, an Autosampler module can be attached to both syringes, enabling twelve samples to be taken. This increased operational flexibility makes it a valuable tool for a wide range of automated chemistry applications.
The Atlas Syringe Pump XL can be operated as a stand-alone system, or connected to a Reactor Master (for automation of jacketed reactor systems), an Atlas Base, or controlled by a PC. It can be connected to an Atlas pH meter and automatically dose acid from one syringe or base from the other to automatically control pH to a user defined value. Also, for safety, by attaching temperature sensors the pump will automatically pause (in a range of dispensing modes) if the reaction temperature exceeds a user defined maximum.
For further information about the Atlas Syringe Pump XL and the Atlas Autosampler Module, or the complete portfolio of versatile Atlas products, such as pH monitoring and control system, reaction calorimeter, crystallisation control system, FTIR analysis system etc., please visit www.syrris.com.

Syrris Limited
Established in 2001, Syrris Limited is one of the fastest growing science SMEs in the UK employing over 30 scientists and engineers at its facility in Royston (near Cambridge). Founders Mark Gilligan and Richard Gray come from a background of developing automation products for chemists at companies such as The Technology Partnership (TTP) and Mettler Toledo.

Syrris develops laboratory automation products for chemists such as the Atlas automated chemistry systems. Atlas can be configured into a wide range of different systems including Lithium and Sodium for round bottom flasks (magnetically and overhead stirred respectively) and Potassium for jacketed vessels. Other Atlas systems, designed for specific applications, including calorimetry, volumetric dosing, gravimetric dosing, pH, etc, are also available.

Syrris also specialise in flow reactors for R&D chemists, including FRX: a low cost flow chemistry system and Africa (Automated Flow Reaction Incubation and Control Apparatus): a modular system for library synthesis, aqueous work-up and reaction optimization that will ultimately reduce the time taken to develop, synthesize, screen and review a chemical entity, thus vastly speeding up the drug discovery process.