Free firmware update for new functions in Huber temperature control devices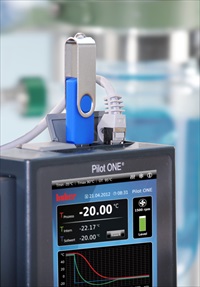 A new firmware is available for Huber temperature control devices equipped with the plug & play controller "Pilot ONE". The firmware update provides the user with various new functions. These include for example the possibility to record process data on a USB flash drive. This new function allows you to have the major process values written directly on a connected USB flash drive. They are saved at intervals of 5 seconds. The data is stored in the form of a universally usable CSV file which can be easily evaluated and edited with programs such as Microsoft Excel®. Another new feature is the saving and loading of temperature control programs on a USB flash drive. Use it to save your internally generated temperature profiles and load them again when you need them – if applicable even at other devices equipped with a "Pilot ONE". The firmware update furthermore comprises an integrated data recorder which records the key operating parameters in the background in a buffer, similar to a black box. This data can be saved to the USB flash drive and transmitted. Thus, the service technician gets valuable information for optimum system setup or for troubleshooting.
You need the "Pilot ONE Flasher" software to run the firmware update. This software is available for download at www.huber-online.com. After installation, the latest firmware will be loaded automatically from the server and transmitted to the Pilot ONE. The installation package of the software comprises detailed instructions on how to upgrade.
---
---
---
---